Greening the county, six streetlights at a time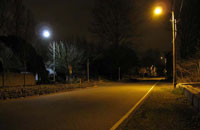 As reported by the Washington Post, Prince William will get over $3 million from the Federal government to implement some alternative energy projects.  County officials may grouse about Obama and the Federal stimulus bill.. but we'll still take advantage of whatever the Feds will offer.
We'll see solar panels of the roof of the McCoart building, new sensors to automagically turn off lights when no one is in a room, and "energy dashboard monitors that will provide real-time data on energy use to building visitors and staff members."  To determine the best Low Emitting Diode (LED) streetlights, 6 of the 6,000 streetlights in Prince William will be converted in a pilot test.
(Fairfax County is testing 10 streetlights in Reston, plus others at the Virginia Railway Express parking lot in Burke Centre and at 10 Fairfax Connector bus stops.  EPA has results from numerous tests across the country now, in various climates and at different latitudes.)
This bodes well for the Energy section in the draft Environment Chapter of the Comprehensive Plan, which is scheduled to be updated in 2010.

One proposed Action Strategy is:
Publicize energy conservation efforts at county facilities. Prominently display the ENERGY STAR label on county-owned buildings that qualify. Post building energy "report cards" for county-owned buildings on the county's website, to highlight impact of energy conservation efforts. Encourage Prince William County Public Schools to do the same.
Arlington County already publishes Building Energy Report Cards for libraries and other facilities.  Arlington County is not randomly trying to be green, whenever the Feds provide money.  That county has made a commitment to reduce emissions from its own operations by 10% by 2012, even as population grows.
When the Prince William Board of County Supervisors finally considers the Comprehensive Plan updates in 2010, we'll see if the elected officials can do more than talk green and depend upon the kindness of the Feds to reduce local energy use.  Streetlight conversions are a good thing, but locating growth "centers" so we stimulate transit oriented development rather than sprawl offers the greatest opportunity to reduce energy use in a fast-growing county.